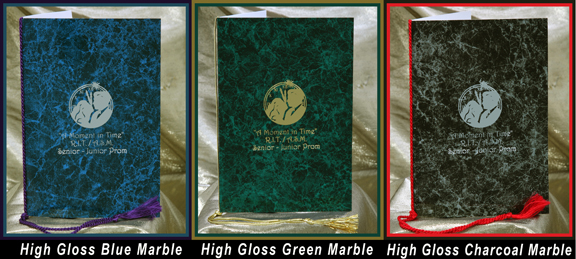 Marble High Gloss Coat
The Marble High Gloss Coat is a high gloss cover stock with a marble effect under the smooth finish. It comes in charcoal, navy, and dark green.
It may be imprinted in any contrasting color. For foil imprint colors see the foil page.
The layout may be in any font (see font page), and the artwork logo may be any of our stock logos (see artwork logo page) or it may be any black on white artwork that you supply. The text may be up to four lines, three works better.
The overall folded book size size is 6.5 X 4.5 inches, and the imprint area of the logo is 2 inches high by 2 1/4 inches wide, the type area is 1 inch high by 2 1/4 inches wide..
Price for the High Gloss Marble Memory Books:
Books include cover, 8 inside page sides, and tassel. Books are shipped assembled.
50..... $2.23 each 75..... $2.16 each 100..... $1.71 each
125..... $1.49 each 150..... 1.43 each 175..... $1.39 each
200..... $1.36 each 225..... $1.34 each 250..... $1.32 each
275..... $1.31 each 300-400 $1.28 each 401-500 $1.26 each
501 and more $1.24 each Order in 25's (minimum order is 50)
Price for the Marble High Gloss Memory Book Covers Only
Not Pictured:
Covers do not include inside pages, or tassels
Tassels are available for $.25 each
50..... $.81 each 75..... $.75 each 100..... $.65 each
125..... $.61 each 150.....$.60 each 175..... $.59 each
200..... $.58 each 225..... $.57 each 250..... $.55 each
275..... $.54 each 300-400 $.49 each 401-500 $.48 each
501 and more $.47 each Order in 25's (minimum order is 50)
(Color, tone, lightness, darkness, and texture of these GIF files may appear differently on different monitors. If you would like to se a sample of the cover stock and the imprint foil please email us with your name and address and we will send one out. Specify stock type and color.)